On Saturday 3 March 2018, the Aboriginal Family Violence Prevention and Legal Service Victoria ('FVPLS Victoria' – now 'Djirra') was joined by over 500 people to celebrate the significant milestone of 15 years in standing firm against family violence, and to usher in a new era for the organisation. Aboriginal leaders, community members, service providers and Victorian Government Ministers gathered together to witness the launch of a new path for the organisation as 'Djirra'.
In a moving speech, CEO Antoinette Braybrook announced the name change, explaining that "Djirra is the Woiwurrung word for the reed traditionally used by Wurundjeri women for weaving. Weaving is a time for our women to come together, share stories, celebrate culture and find solutions to problems. This is Aboriginal women's business and this is our vision for Djirra."
Ms Braybrook also reflected on the journey to 15 years and what the change will bring for Aboriginal women. "Our journey started in 2002. Since then, we have grown and expanded and thousands of Aboriginal women have accessed our services. Our work will continue to support Aboriginal women through our holistic legal and non-legal services and our ground-breaking early intervention and prevention programs. Now, as Djirra thousands more will be able to access our new services and programs through our Koori Women's Place and expanded regional presence," she said.
The evening also included a speech from Chairperson Marion Hansen, who recounted the beginning of the organisation back in 2002: "I remember when we first started this organisation 15 years ago. I was struck by the fact that no-one was talking about the women. About the violence they were facing." Marion also reflected on the hurdles faced, saying "We've had our ups and downs over the last 15 years. But we fought hard, we made our case, we proved our worth, and now we are bigger and better than ever".
A poignant moment in the evening involved Ms Braybrook asking all Aboriginal women present in the room to stand, and announcing that "On behalf of our Board and our staff, I gift you Djirra. As Djirra, we stride into a new future, together."
Other highlights from the evening included a moving Welcome to Country by Aunty Joy Murphy, introduced with the Call to Country from Chenile Chandler. Christine Anu and Isaiah Firebrace brought down the house with their powerful performances, and they also joined forces to provide a surprise duet, which was welcomed by attendees. The Merindas ensured that the crowd remained on their feet, dancing the night away, and Shiralee Hood had the crowd roaring with laughter during her comedy set. Aunty Pam Pedersen was a crowd favourite as the Master of Ceremonies.
"What we do makes a difference. Aboriginal women can always count on us. Our vision for Djirra comes from listening to Aboriginal women – this celebration tonight belongs to every Aboriginal woman in Victoria," said Ms Braybrook.
To see some great photos of the Gala, go to our Facebook page and check our "We are Djirra" album.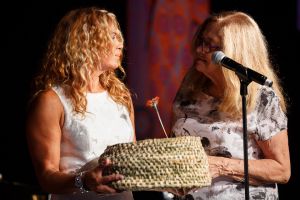 8 March 2018